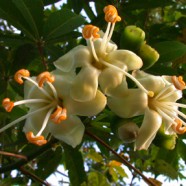 FLORES Y SEMILLAS
Cada 5 a 10 años, la Ceiba produce flores grandes de color amarillo, blanco cremoso o rosado pálido. Cinco pétalos que miden cerca de 2.5 cm forman la flor en forma de campana. Se abren poco tiempo después del atardecer, emitiendo un olor agrio aparentemente diseñado para atraer a los murciélagos que las polinizan.
Las vainas verde clarass de las semillas tienen una textura lisa, parecida a la madera. Se abren de golpe en el árbol justo después de que las hojas caen. Una fibra blancuzca llamada Kapok rodea las semillas y provee una dispersión efectiva a través del viento. Las semillas esféricas marrones han sido usadas para el tratamiento de fiebre, asma y enfermedades del hígado.
Las impermeables fibras de Kapok consisten de celulosa casi pura, son 5 veces más boyantes que el corcho, y son 8 veces menos pesadas que el algodón. Antes de los sintéticos, casi todos los salvavidas y asientos de carros estaban llenos de Kapok. También eran usados para asilamientos, sacos de dormir, colchones y almohadas.
FLOWERS AND SEEDS
Every 5 to 10 years the Ceiba produces large, yellow, creamy white or pale pink flowers. The bell-shaped flower is formed by five petals measuring 2.5 cm long. They open shortly after sunset, emitting a sour odor seemingly designed to attract the bats that pollinate them.
The light green seed pods have a smooth, woodlike texture. They open on the tree just after the leaves have fallen. A whitish fiber called Kapok surrounds the seeds and provides effective wind dispersal. The spherical brown seeds have been used to treat fever, asthma, and liver disease.
The waterproof Kapok fibers consist of nearly pure cellulose, are 5 times more buoyant than cork, and weigh 8 times less than cotton. Before synthetics, nearly every life preserver and automobile seat was filled with kapok. Also used for insulation, sleeping bags, mattresses ,and pillows.